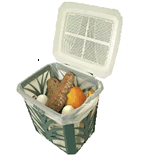 .
The MaxAir II ventilated basket is designed to allow air to pass all around the food and in doing so allows the food to dry quicker. The basket has square edges and a lid that stays up when lifted. This allows food to be simply scraped into the caddy. This is the leading system for domestic food waste collection. The ventilated basket which reduces weight and volume of the waste will also keep the food waste "fresh" avoiding unpleasant smalls.
Available from the BB, the Church office or at the Orchard and costs only £7.00
Food Bags
We have Bio Bags food bags available that fit both the white bucket and the Max Air II Food Caddy. The size of the bags provide enough room to lift the bag out of the caddy and still have room to add some more waste food before tying it up.
Bio Bags for
the white pail are 6 ltr sized
the green vented csaddy are 7ltr sized
Both are avaible at only £2 per roll of 26 bags.
New stlye 7ltr bags are now available which have tie handles. This additional material provides a slight increase in capacity but allows the bag to be tied up easier. This change follows many customer requests.
The new tie handle bags come in a roll of 52 bags which costs £4.
Stock is available from the Church Office or The Black Door Shop
Can't mpated to nine prices we are confidant we are the cheapest supplier of genuine Bio Bag products
Food bags can be posted out if required but we will have to charge for that unfortunately.
email bb-at-orchardhill.org.uk now for prices and delivery arrangements
(substitute -at- with @ in the email address above. This is to prevent spam.)
The 86th Glasgow Company Boys' Brigade is a Scottish Registered Charity No SC032298